A while back I "pinned " an idea I really liked for the front step for Spring.
I already have a "chippy chair" and a table.
So I thought , maybe I can pull this off.
Of course , I had to but my own spin on things.
I put my bunny , grapevine and twigs on the table instead of the chair.
I used a clay tile to hold up my faux pussy willows and pink hydrangeas.
Instead of a bowl or basket, I decided to but my bunny in my old crate.
I picked this bunny up last weekend at Kirklands.
I thought he was perfect for this vignette, Em thought he was creepy...
I had to include my "chippy chair".
I picked up this twig wreath with pastel beads at the thrift store.
Then I hot glued various sizes and colors of plastic Easter eggs to it.
Tippy wanted to get in the picture !
That's my Copy Cat....
more if an inspiration really.
But it still gives a Spring Welcome to the Trailerhood.
I joining these fun parties this week , be sure it check them out.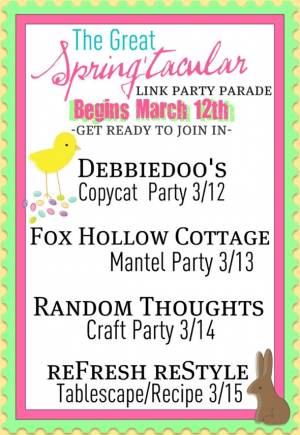 Also linking to these great linky parties
More the Merrier
Monday@DIY
Home Sweet Home
http://diyhshp.blogspot.com/
So Very Creative Party Time @ So Creative
http://soverycreative.blogspot.com/
Meet Me Monday @ You're Talking Too Much
http://youaretalkingtoomuch.blogspot.com/
Amaze Me Monday @ DittleDattle
http://dittledattle.blogspot.com/
What's in the
GunnySack@The
Gunny Sack
http://www.thegunnysack.com/
Meet Me Monday @ You're Talking Too Much
http://youaretalkingtoomuch.blogspot.com/
Metamorphosis Monday @ Between Naps on the Porch
http://betweennapsontheporch.blogspot.com/
Make the Scene Monday @ Alderberry Hill
http://alderberryhill.blogspot.com/
Make it Yourself Monday @ An Original Belle
http://anoriginalbelle.blogspot.com/
Show Me What You Got Linky Party @ Our Delightful Home
http://www.ourdelightfulhome.blogspot.com/
Talent Tuesday @ Vintage Wanna Be

http://www.vwbblog.com/
Party Time Tuesday @ Northern Cottage

http://www.northerncottage.net/
Trash to Treasure Tuesday @ Sassy Sites
http://sassysites.blogspot
.com/
Cowgirl Up Creative Linky Party @ The FarmhousPorch

http://farmhouseporch.blogspot.com