I hesitated in writing this post because I haven't gotten my little kitchen project completely done. I am ALL about the details and I'm still tweaking those. But I wanted to share and it's a quiet night here, soooo, I just couldn't wait.
This is one of my " inspiration" pictures. I LOVE open shelving in the kitchen.
And white cabinets. In one of our homes ( the Cedar St. house ) I had really old kitchen cupboards but the were built at a time when things were built solid and out of "real" wood , so they were strong and sturdy , so instead of replacing them I painted them white and removed the doors from all the upper cabinets. I loved it. I should also mention that it was my first red kitchen ( Gypsy Tomato to be exact). I have had a few more since then , different houses , still white cabinets and red walls.
When we moved to the Trailerhood , we gutted everything, especially the 1970's kitchen. We installed white cabinets and black counter tops ( by "we" , I actually mean Handy Hubby ) . I had really tried to convince him not to install upper cabinets at all , but couldn't get him to go for it . I also couldn't justify pulling the doors off brand new cabinets.
But I had this space~
above my stove.
I just didn't like it .
It didn't feel... finished.
I hate that corner too.
But that's the next step.
Anyway, I thought that would be a great place for some open shelves. I have some pretty cool things hiding behind those white doors and I really wanted them out in the open where I could enjoy them even when I wasn't using them.
Like my BEAUTIFUL Rachael Ray Bubble and Brown bakeware .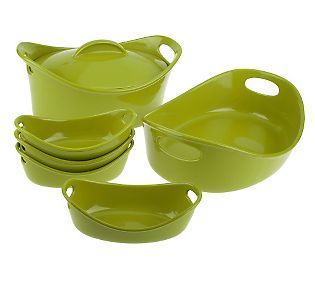 I LOVE.LOVE.LOVE these !
And they are hidden away in all their awesomeness behind the white doors !
SO , on one of our many trips to Menard's , while Hubby was busy elsewhere, I bought white laminate shelving and corbels. Once I had spent the money , what choice did he have but to install them ?
It took awhile , he still protested a little and he refused to let me take his picture .... but here they are!
Notice my Rachael Ray dishes?
No ?
That's because we had a little battle ( and he actually won this one ), you see they are rather heavy dishes , and these shelves are directly over my stove , which has a glass top, and heaven forbid one of MY heavy dishes fell and broke the cook top ! I mean, I would NEVER hear the end of it !
Anyway .... it is not COMPLETELY tweaked yet , but it's a start. Hubby put most of the stuff on the shelves. He thinks he's a decorator now too !
Just look at what else he did ~
I had gotten this over sized martini glass at a thrift store. I thought it was cute and I would use it for bracelets or something on my dresser. It had a chip, but things like that don't stop me. It was sitting on the kitchen counter after being washed and when I came home from work yesterday , this is what I found !
Cute , huh?
I was actually pretty impressed with him .
I will post more pictures once I get everything in place . I'm having my "Girlfriends Halloween Party " next Friday, so things MUST be in place by then !
Of course, with my Hubby , the decorator , it should be no problem !